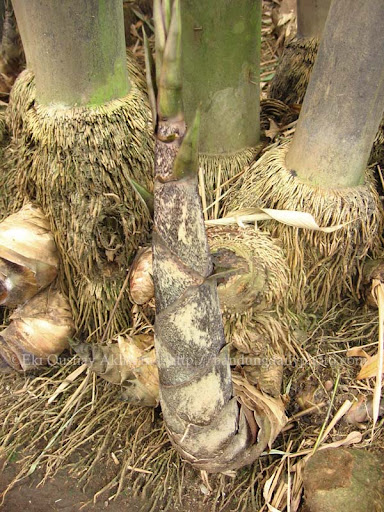 Rebung
is the Indonesian name for bamboo shoot like the one in the above photo.
Being a member of the grass family, bamboo grows nearly everywhere. About 1,000 species of bamboo have now been identified. They grow from the Earth's coldest places like Shakalin (in the east of Russia) and the Himalayas up to the warm Sub-Sahara in Africa. However, only in east and southeast Asia does bamboo find its most significant cultural and economic values. For the people of east and southeast Asia, it is not only a versatile and strong building material, but also a beautiful decorative plant and a food source.
Rebung
is a delicacy in Indonesia. As a kind of food, it is treated much like a vegetable. It is usually sliced thin and cooked with a variety of other ingredients to make delicious dishes.
Gulai Rebung
(bamboo shoot in curry-like coconut milk broth),
lodeh
(a kind of "soup" with coconut milk), and
lun pia (lumpia)
are some of the most well known recipes for bamboo shoot dishes here.
It needs to be noted, however, that bamboo shoots from certain types of bamboo like those of the giant bamboos are not edible because they are toxic.
You can look at photos of
rebung
dishes
here.